Richard Frackowiak
Richard Frackowiak is Professor and head of the Department of Clinical Neurosciences at the Université de Lausanne and its Centre Hospitalier Universitaire Vaudois. Formerly he served as Foundation Professor of Cognitive Neurology at University College London (UCL), Director of the Department of Cognitive Studies at the Ecole Normale Superieure in Paris, Wellcome Trust Principal Clinical Research Fellow and Vice- Provost of UCL after a period as Dean-Director of its Institute of Neurology. He founded the Wellcome Department of Imaging Neuroscience and its Functional Imaging Laboratory.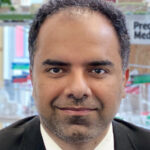 Sultan Heider
Sultan Heider was the founder and is Global Head of Innovation Think Tank (ITT), a part of the Chief Technology Office of Siemens Healthineers (SHS), the infrastructure of which includes multiple innovation labs across Germany, China, India, Turkey, the United States, United Arab Emirates, and United Kingdom.
In 2008 SHS Managing Board awarded Prof. Sultan Haider the title of Principal Key Expert at Siemens Healthineers.